A Design Classic - in your garden?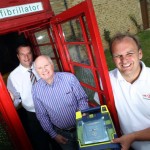 It might not be long before seeing a bright red telephone box in the UK becomes a thing of the past. Do not despair though as BT (British Telecom) is now selling these design classics, so you could have one in your back garden!
The 76-year-old K6 design was created by architect Giles Gilbert Scott for King George V's silver jubilee in 1936. Produced up until 1968, almost 70,000 were manufactured for deployment across the UK.
As more of us our using our mobiles to make calls, the humble telephone box is likely to become a much rarer sight. The new BT phone boxes include a host of new features including Wi-Fi hotspots and credit card payments. But they are unlikely to become a design classic as the K6.
"It's a timeless design recognized all over the world and is synonymous with Great Britain.
You have to have the right outdoor space or patio area for the box to look at home! But I would expect that B&Bs and many pubs are likely to take up the offer."
says David Boyd, Director at PAD4U.
You can get your hands on one of these for as little £1,950 ex. VAT and delivery. If you would like to order a box you will need to visit the X2Connect web site. X2Connect manufacture the K6 boxes on behalf of BT and also the more modern glass telephone boxes. The web address is www.x2connect.com/shop/BT__Red_Phone_Boxes_.php.
However, if you want to make an actual phone call from the box you will need to use your mobile!