Monitoring your energy usage!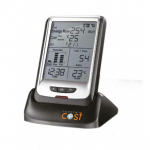 Energy costs have been rising for sometime now over and above inflation. These increased costs can be tackled in a number of ways, including: energy saving bulbs, better insulation or switching provider. However, working out how much electricity you are using throughout the day is difficult as the meter is usually not conveniently located and calculating your usage via meter readings isn't easy.
The solution is a current cost meter which monitors how much electricity you are using and presents this in an easy to understand format. Your energy provider may provide one free of charge, or alternatively you can purchase one online (e.g. Amazon) for as little at £50.00.
Once setup you can enter your cost per Kwh (Kilowatt hour) and the device will calculate your daily usage including how much you are consuming during the day, evening and night.
The device can connect to your computer to create graphs and an analysis of your power usage. Alternatively an Internet Bridge will allow the data to be posted onto a website so you can monitor your energy usage anywhere and analyse the data in many different ways. See www.currentcost.com for further information.
These are available on line and range in price from £30-50 depending on functionality.