Rent On Time Manchester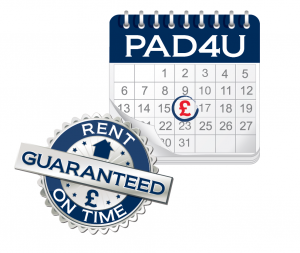 Julie Lukow, Letting Manchester at PAD4U talks about Rent On Time for Landlords:
"I'm proud to say that the launch of our new Guaranteed Rent on Time Scheme has already generated interest from Landlords wanting to secure their cash flow in the future. We have also converted a couple of our let only landlords to come on board our full management service so they can be included in this scheme.
The fact that PAD4U are guaranteeing Landlord's Rent On Time free of charge for the initial 6 month period of any new tenancy is bound to be attractive to landlords in this difficult financial climate. It gives landlords the confidence in us as managing agents and they are safe in the knowledge that they will not have to be continually checking their bank accounts to see if the rent payment has arrived or have to start transferring monies between accounts to cover mortgage payments.
Other schemes are in place on the market but PAD4U will pay the full market rent (less our normal management fees) until vacant possession is obtained. We are not charging any more for this service and have not increased our initial finder's fees or monthly management charges. Landlords will have the option to renew this valuable cover for either a 6 or 12 month period after the initial free period and we will be happy to discuss these fees with you. However, on average it works out at about 55p per day! For me it's a no brainer as this covers full rent guarantee, legal costs up to £25000 and my rent paid on the same date each month without fail.
I am passionate about our new scheme being a success and will be delighted to take any calls to discuss this in more detail."
To find out more click here.