PAD4U Spends ££££s Keeping Landlords in the Black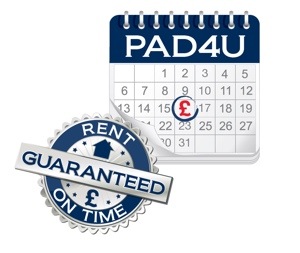 It's almost six months since PAD4U launched its Guaranteed Rent on Time Scheme to safeguard Landlord's rental payments.
During this period we have spent thousands from the Scheme Fund to ensure that our Landlords have been paid on the date promised when the tenant has failed to pay their rent on time or not at all. We have recouped this from the tenants without passing the stress onto our Landlords and making them wait for their payment.
While the private rental market is continuing to grow, tenant arrears are also on the increase. Worrying statistics have indicated a dramatic rise in claims being made against rent guarantee insurance.
We hear all the excuses under the sun for tenants not paying rent on time and whilst some, like a dog ate my rent money or my pet died and I had to pay the funeral costs to its Christmas and I've had to buy presents are amusing examples, the reality is not quite so funny for landlords who have a mortgage to pay. Which is why PAD4U has developed it's unique Rent On Time guarantee.
For further information please do not hesitate to contact Julie on 0161 257 2441 and safeguard the future of your rental income.