Standby! Prepare to Move!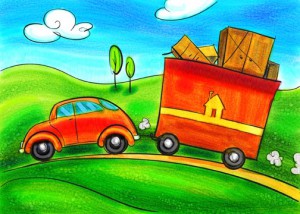 Having moved around the country and abroad as an Army wife for the last 10 years, I know how stressful moving house can be. There is so much to think about let alone the logistics of carrying on with everyday life whilst this chaos is happening around you. Here are a few tips on how to make this Military Manoeuvre run more smoothly.
Get organised. Time for a really good clear out! We all accumulate 'stuff' over the years. Be really ruthless and get rid. There is little point in moving things you are never going to use and you will just clutter your new place. This will also make your packing so much easier and give you an opportunity to go through 'that' cupboard that you shut the door on and forget about!
Give yourself enough time. Start early! Get babysitters so you have time to concentrate without the interruption of the children. Do the skip runs, clear the garage and clear the garden. All jobs that can be done ahead of time.
Think about how to move. Removal companies can be brilliant but can also cost a pretty penny. The upside is that most will offer 'a pack for you' service (for a charge!) and do all the heavy lifting, however, a more economical way of doing things might be to hire a van yourself and call on a couple of your mates to help out! (They will love you for it!!)
Start Packing. I have found it much easier if I have at least made a start on the packing before moving day. Even if you are using a removal company (who will pack for you) If you are having a clear out anyway, why not put it in a box? This also means you don't have to climb a mountain with packing when you're trying to move.
Think about the kids. Moving can be a very unsettling time for a child. You are literally turning their world upside down! Talk to them about it, use books to help demonstrate what is going to happen and get them involved. Let them pack some toys (leave their special toys until last) Where possible, take them to your new house and show them it. Point out their new room and talk about decorating it or what they would like to do with it.
Logistics. Plan your moving day. Depending on the distance between your 2 houses, think about where everyone is going to sleep. Will you have enough time to empty one house and get beds up in the new house? Booking a night in a hotel might just take the pressure off. If you have animals, it might be a good idea to organise kennels for a night to prevent escape artists!
Moving day! If you are using a removal company (or your kind mates!) Get the kettle on, make the bacon butties! My experience of removal guys is they love a brew and let's face it might be a bit more likely to look after your things if you look after them! Might be a good idea to get someone to have the children so you can focus on the move. However, taking them back to the empty house or seeing the removal truck with all your belongings on it might just help them with the realisation of moving.
Your new house. Once you have cleared your old house and given it a clean, you will then have the mammoth task of unpacking. Prioritise. Get your beds up and made and your sofas in place so when you have had enough you can give up for the day. You don't have to get everything unpacked on day one, and actually if you take your time you will end up with things where you want them rather than moving them again at a later date. I always start in the kitchen and work up!
The average person moves 8 times in their lifetime, and each move will be different, but the basics are the same. Being organised will reduce the stress and strain of a difficult time and hopefully reduce the arguments!
Written By Christine Lawson of Agent Media UK