Finding the Perfect location for your next move.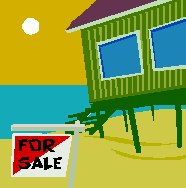 Moving house can be a stressful thing, and if you're not sure even where you want to be this can only add to the stress! Whether you are looking to move locally or emigrating to another country, there are a number of things to consider when you are trying to decide where to live.
1. City or Country? Probably the first thing you need to decide is do you want to be in the city or a more rural location. It is possible to get the best of both worlds by choosing somewhere with good commuter routes, but fundamentally you will need to choose! This will then cut your options also!
2. Property Prices. You may well be ruled by the housing market. Certain areas could be totally out of your price range, so do your research. If you have an idea of the area you want to look in, visit the local agents who will be able to guide you depending on your budget. Often, you can get a lot more for your money 2 miles down the road!
3. Employment Opportunities. A big consideration when looking to purchase a house. If you are moving locally, how far is your commute to work? Drive the route a few times and at different times of the day. If you are looking further afield, what are the job prospects like? Moving to an industrial area if you are a gardener is not ideal! This goes for all members of your family. If you have teenage children, are there local weekend jobs available?
4. Weather. How important is the climate to you? Whilst this may be more of a consideration if you are planning to move abroad, it is also true of moving in the UK. We all know how temperamental the British weather can be and some areas have more settled weather than others!
5. Crime Rates. How safe are you going to be? Particularly important to check if you are moving to an area you don't know well. While nobody wants to live in a high crime area, it is unrealistic that everyone can live in paradise! Worthwhile checking it out.
6. Proximity to Family and Friends. If you have a large extended family or all your friends are in one area, do you really want to travel miles and miles to visit them? If your move is a permanent one, consider the fact that your family may not always be as fit and healthy as they currently are and may depend on you more.
7. Amenities. Look at transport links, schools, local shops, bars and restaurants, sports facilities, entertainment venues. How important is it to be near an airport or hospital? These are all big factors when looking to settle your family and remember that your family will grow! While Mums and Tots maybe important now, in 10 years your will need cinemas and fast food restaurants!
8. Family life. The most important consideration of all. Think about all your family members, and what is important to them. Are you an outdoor family moving to an inner city? Are the schools in the area good? How likely is it for your partner to gain employment and make friends? Striking the balance between purchasing the right house and keeping your family happy can be tricky.
Choosing a new place to live can be hard as you have so many factors to encompass. Don't rush the decision and do your homework. Be prepared to compromise as it is unlikely you will get absolutely everything that you want. Look at lots of areas and decide what is most important to your family. Although it can be frustrating, the hard work will be worth it when you have found your dream location.