PAD4U teams up with Cancer Research UK in 2014
PAD4U are delighted to announce that we have selected Cancer Research UK as our chosen charity of the year for 2014.
Throughout the year we will be competing in grueling events such as the BUPA Greater Manchester 10k Run and the Salford Triathlon, as well as hosting a handful of fundraising events in a bid to reach our target of £3000.
We have decided to team up with Cancer Research UK, but specifically the "More Tomorrows" campaign, which is helping to fund the construction of new, state of the art laboratories for the Manchester Cancer Research Centre (MCRC).
The new MCRC building will revolutionise the way cancer is prevented, diagnosed and treated worldwide. It will create more tomorrows for people like the 1,900 people diagnosed with cancer in Manchester each year.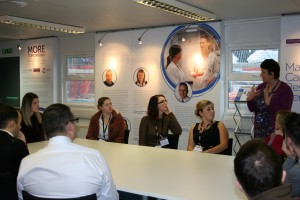 The Manchester Cancer Research Centre brings together scientists, doctors and nurses from around the globe. The Centre harnesses existing strengths in cancer research, leading to improvements in treatment that will benefit patients in the city and beyond.
The Centre is a partnership between Cancer Research UK, The University of Manchester (which includes the Cancer Research UK Manchester Institute, a Cancer Research UK Institute) and the Christie NHS Foundation Trust. To take this centre of excellence to the next level, a new research facility is being constructed adjacent to The Christie. This will drive research into personalised cancer treatments forward.
The MCRC has remarkable potential to be at the forefront of revolutionising the way that cancer is treated in the future. By providing world-class spaces, environments and technologies more of the very best researchers in the world will be attracted to the city.
If you would like to help us reach our target by make a kind donation please visit www.justgiving.com/company/pad4u