A Limited Budget Can Achieve A Lot
When it comes to adding to the value of your home and making it more attractive, it may seem as though you need a great deal of money. There are plenty of experts who will tell people that serious investment and major overhauls is the only way to improve the value of their home but this is not the case. Yes, strong investments can make a difference, but you don't need to spend a lot of money to transform your home and make it attractive for you, or any potential buyer.
There is a lot that you can achieve with a limited budget and these are some tips that will help you to improve your home without breaking the bank.
Exterior
Simple things like ensuring your garden area has been kept tidy, that your grass is cut and that you have cleaned your windows can go a long way. You should be looking to create a colourful display with some plants and applying a fresh coat of paint to the doors and walls will not be a bad idea.
Clutter
One of the most commonly said tips regarding improving the appearance of your home is minimising clutter. You can make your home seem larger, which is one of the most important elements when attempting to sell a home. You will find that there are affordable storage options in your local area.
Keep it clean
You may be pushed for time but if you can carry out a big clean of your home, it will make such a massive difference. If you are able to steam your carpets, dust the property and make sure that wooden tops have been polished, you will find that your home looks stylish and could pass for being much newer than what it is.
Paint
You don't need a lot of money to afford good quality paint, and a fresh coat of paint around the home can make everything seem fresh and new. It is best to choose neutral colours, as this will provide the best platform for you to sell your home to a potential buyer.
Think about the bathroom
The smallest room in the house can have one of the biggest impacts, but you don't need to spend a lot of cash to make the bathroom look brilliant. Fresh towels, a bath mat, keeping personal items out of site and ensuring that everything is sparkling can make a massive difference when it comes to creating a good impression in the bathroom.
Staging
Finding the balance between removing clutter but making your home seem lived in is difficult but crucial. Adding items like new bedding and cushions can help to brighten the place up while ensuring that the house feels like a home. Minimising the level of personal belongings, and making the home seem like more of a show house, can help to catch the eye and allow people to feel as though this is a property that they can see themselves living in.
All of these elements can be improved on without the need to spend a great deal of money, so there is no barrier to improving the value of your home and making a sale.
[caption id="attachment_1406" align="alignnone" width="300"]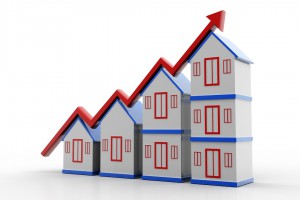 Buying in a Fast Moving Market[/caption]