Levenshulme Property News
New Cafe owner to head towards Levenshulme Food Market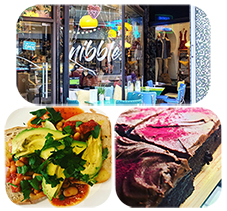 Seven months ago, Lauren Irlam, 29, took over a cafe on Oldham Street when it was called Blue Daisy. She has now renamed the venue 'Nibble' and put her own mark on it.

She studied human nutrition at Manchester Met University but didn't want to work in the technical environment as she "would rather be out there working with food and people"
She started saving while working as manager of Tea Cup in the Northern Quarter and then the Railway Kitchen in Alderley Edge, and had planned to "save up for years". However, things happened a lot quicker than expected. "It happened in a flash, I got a loan and two weeks later I was in."
The enterprising baker is living a dream come true, and she's also planning to take her bake on the road to local markets in Manchester and Levenshulme.

"I would say half my menu is vegan or gluten-free to cater for the sort of people who live here and come to the area," she said. "It has forced me to explore new things, which is great fun."

We will sure be looking forward to seeing Lauren at our local Levy Market sometime soon!

About The Blog
This Blog looks at what is happening in Manchester, the property market, events and community news along with investment ideas and tips for those loosing to invest in the area.
Tom Simper - Editor


Manchester is one of the fastest growing markets in the country. If you need any assistance buying, selling or letting properties in the area we have over 30 years of experience and local knowledge to help.
T: 0161 441 0563
E:
[email protected]