Interest Rates - Where to now?
[caption id="attachment_32" align="alignnone" width="300" caption="Historic UK Interest Rate"]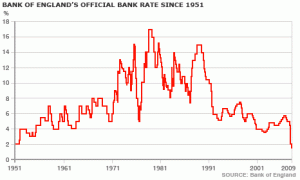 [/caption]
David Boyd, Managing Director, PAD4U Letting Agents Manchester writes:
As a Lettings Agent in Manchester, we're often asked about interest rates and what they will be in the future. We don't have a crystal ball, but we can take some cues from history.
The Bank of England has cut interest rates to 0.5%, the lowest level in its 315-year history, as it continues efforts to aid an economic recovery. It's a pretty safe bet that interest rates are likely to rise in the future. The question is when, and what you can do as an landlord?
Sit tight?
There is certainly some evidence to suggest sitting tight is the best option right now. Inflation has decreased close to government targets and the BoE Quarterly Report foresees a low inflationary environment until well into 2010.
But don't get too complacent. Swap rates have recently increased (important as this is the market banks use for financing mortgages). This is occurring due to expected "Green shoots" of recovery and recent rebound in oil prices. This is fueling the fear of inflation.
The effect of Quantitative Easing are difficult to predict. Certainly this has the potential to be inflationary. But it's impact is unknown, the judgment of how much QE is required to kick start the economy and avoid deflation, yet not drive inflation is a fine balancing act. It's likley given human nature that we will err on the side of avoiding deflation and thus risk driving inflation in the future.
Our view
Our view is that interest rates are likely to rise in the region 1-2% mid 2010. However this may not result in banks adjusting their rates greatly as this change in the BoE rate may be priced in by the banks and financial markets already. After this, history tell us we're unlikely to control inflation in a cool, calm and collected manner. Instead we will see interest rates steadily rise over the coming years.
There are few options for landlords to fix rates at sensible levels at the moment, and many lenders' LTV ratios mean that only the lowest geared landlords could take advantage of these rates. Therefore a wait and see approach is fine, but do not be complacent and pay close attention to financial market signals, and take advantage of good fixed rate offers as the property market stabilises and banks become more willing to lend. It may very well be the case that fixed rates will not fall, but continue to rise.
Don't beat yourself up if you don't judge this right, it isn't very likely you will. Speculation on swap rates continue, and like share prices very few individual guess the market right. Inflation may lead to higher interest rates, but likewise it should also lead to higher rental returns cushioning the blow. Getting the right fixed rate at the right time, should you be that fortunate, will just mean an increase in your returns.
The economy may also give us a swerve ball and remain low inflation and low interest rate for years to come aka the Japanese economy. However, the UK market is very different and our view and that of most economists is a rise in interest rates over time is the most likely scenario.
If you want to find out what the best deals are, our Mortgage Brokers the Fresh Partnership give free independent advice. Please call to book a telephone/office appointment.