Cutting Edge Property Agency
A message from David Boyd, Managing Director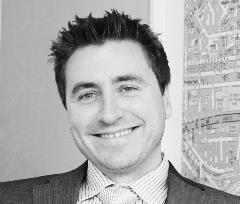 I am not your traditional Estate Agent, however, I've always owned, rented, sold, and refurbished property since the age of 18.

I took over the reins of family business Peter Anthony in 2010, having previously worked for a number of financial institutions including society generale and Eurobank in London and immediately set about bringing my skills to create a modern agency fit for today's market.

I've built a formidable team based upon not only experience in the industry, but more importantly people who have hands-on experience in buying, selling, refurbishing and letting property. I believe there is no better training than to be active in the property market. We continue to invest in our team and have been recognised with the Investors In People Award.
We also believe in local knowledge and local experience. We're proud of the areas we operate in and are committed to delivering the best local property advice to our clients throughout Manchester, Liverpool and Stockport.
Peter Anthony offers the best of both worlds. The best service in the industry provided by an experienced and dedicated team coupled with cutting edge technology to ensure we remain far ahead of our competitors in offering the best service to our customers.

Peter Anthony was established in 1986 by the partnership of Peter Robertson and Anthony Boyd through their shared interest in property. Both found it difficult to find an agency that offered all the services required at the highest level.

We have always aimed to exceed the highest standards in service for our customers. To this end we have joined many standards based organisations including the National Association of Estate Agents (NAEA), the Association of Letting Agents (ARLA) and the Property Ombudsman for Sales and Lettings.

We believe that property is the single most important financial decision that most of us will make during our lifetime. We therefore believe that it should be treated as such by all members of our trained team, something all too rare in the property industry.

We believe our team should understand and be involved in property if they are to help others, to this end we have encouraged and assisted our team to build property portfolios of their own. We believe this is the highest form of training available.
We provide all property services required under one roof:

- Property Sales
- Property Management
- Independent Mortgage Advice (via our brokers)
- Property Maintenance
- Building Services

We can advise on all aspects of the property market and give advice based upon your individual requirements
I would highly recommend Peter Anthony to anyone looking to purchase a property.
William
Knights Court, Salford
Excellent service, Greg was really professional, helpful as well as always being really friendly.
Jay Mac
Trafalgar Road, Salford
Peter Anthony adheres to the Propertymark Conduct and Membership rules which can be downloaded by clicking the link below.