Ah hoy - Treasure!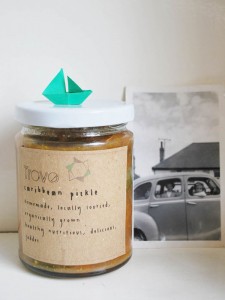 It wasn't that long ago in Levenshulme when procuring a decent coffee was a difficult task. But like the 192 buses, suddenly there are a whole range of options from Inspire, to POD Deli, the ISIS cafe, etc. And more recently I've discovered Trove. Located opposite the Antiques Market. The decor is rustic and immediately feels welcoming and warm. Block wood tables, grey tones and mood lighting give Trove a sophisticated, but friendly look.
Trove, run by husband and wife team Kate and Marcus, aims to provide fresh, seasonal and organic produce. On my visit I tried the Aubergine and Red Pepper soup with Chilli. On a cold day it certainly packed a warming punch and was just to my taste. My cappuccino was strong and frothy. Whilst the menu builds I look forward to revisiting Trove and discovering something new each time.
Trove also have a range of home-made jams and pickles - I've taken home Apple and Ginger jam which sounds like a winning combination.
It's great to see new places like Trove popping up in Levenshulme. Whilst other areas may covet their Starbucks and Costas, Levenshulme is quietly building it's own vibe - and it's pretty tasty!