Inspire Awards 2012 Winner!
The Inspire Awards 2012 looks for unsung heroes of the community who have made an outstanding personal contribution.... ordinary people doing extraordinary things! The Awards were held at the Inspire Centre on Saturday 10th of November. PAD4U have been proud sponsors of the event from it's inception in 2011.
Our sponsored category for the awards was for the Carer Award. It's the category that we feel is a uniquely human trait to care for others who need help, without such the community wouldn't be as pleasant or as caring a place to live. This year Jackie Fairfax was the winner of this category for her decades of service as a lollipop lady helping children cross the road to Alma Park school. Her friendly and caring approach to both parents and children makes Jackie a very deserving winner of this award. Jackie also was awarded the overall Inspire Award for 2012. Having meet Jackie for only a couple of hours at the Awards, it was immediately clear she radiated warmth and a caring manner, and we all want to congratulate her for winning these Awards.
[caption id="attachment_1112" align="alignleft" width="300" caption="Jackie Fairfax winner of the Carer and Overall Inspire Award 2012"]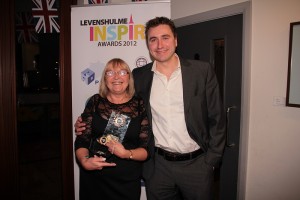 [/caption]