First Impressions Count!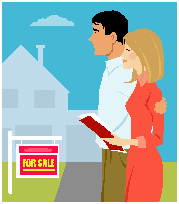 When you're trying to sell your property, don't underestimate the kerb appeal and first impression your house should make. If you house is unappealing from the outside, you are less likely to entice buyers inside. This also goes for the inside of your house; you should see viewings as showcasing your home rather than simply showing the space.
The outside of your house is important. Crumbling paint, missing roof tiles or broken windows can create a feeling of poor maintenance. Simple things like painting your front door can really spruce up the appearance of your house. Make sure your windows are all in good order and free from dirt and cobwebs.
Your Garden should be tidy and the grass cut. If you have children put the toys away or at least tidy them up so the garden looks neat. If your potential buyer doesn't have children they need to be able to visualise the garden as they would intend to use it. Paths and driveways should be swept and a quick go with the jet wash can transform these areas. Hide the bin!
On entering your property, ensure your hallway is free from clutter. Tripping over shoes and coats is unappealing. Clutter in general is a no no. Putting personal items away and de-cluttering your house can help your potential buyers to see themselves living in the property and even start to place their own furniture in the house!
Tidy up! Sounds obvious and it is!
Neutral,neutral, neutral. Although you might love that purple wall and checked wallpaper, remember it might not be to everyone's taste. Painting the walls magnolia might seem like a laborious task, but it will be inoffensive to potential buyers and also create a light and airy feel.
Appeal to the senses. Fresh flowers, brewing coffee, and the old cliché of freshly baked bread will give your house a homely feel. Walking into a noisy chaotic house can distract buyers from the job in hand! Turn the TV or music off and the kids might deserve a trip to the park!
Pets. Love them or hate them, they can be off putting on entering a house. Putting Fido in the garden for a while isn't a bad idea, at least until you have gauged how your guests feel about animals.
Lots of people make an instant judgment on a first impression. Just a few simple things can dramatically alter that first impression and get people through that front door!