Why so many graduates are choosing to stay in Manchester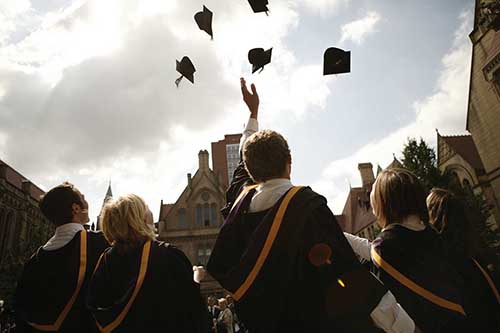 The four universities in Greater Manchester draw thousands of young people to study each year - many local, but many from all across the country and further, and a growing number are choosing to stay put after they've completed their qualifications.
The average London salary is just over £34,000 - but rent as far as an hour from central London will still set you back £800-1,000 a month. Because of this, graduates are looking at how far their money would go in the capital and whether the lifestyle they would like is actually attainable whilst living in London.
Manchester can arguably lay claim to being the best city in the UK for graduates thanks to a growing number of exciting jobs in the media, digital, science and the financial sector combined with a fantastic restaurant and bar scene - "There are lots of other young professionals ... it feels like a young city".
What exactly makes Manchester the best place for graduates to live?
Property:
According to the Land Registry the average home in Manchester will set you back around £155,000, which is less than a third of the average price in London, so for those looking to set down permanent roots and buy their own home, it's ideal.
However, there is also plenty of opportunity to rent, whether it's a city centre apartment in Castlefield or a house share a little further out, there will be something for you.
Ged McPartlin from Ascend Properties, says that graduates are looking to stick around after university. He said: "If you compare it to London then prices are still much lower. It is the second city outside London, with restaurants and bars and a demographic which gives it that young feel."
Jobs:
For any city to thrive there has to be investment and opportunity, and the creation of MediaCity UK in 2011 helped bring thousands of roles to the region, across more than 200 companies. This is only set to increase with its £1bn expansion scheme over the next ten years, creating 1,400 new homes and hundreds of jobs.
As well as big companies, Manchester is also a place where young businesses are growing. According to TechNation there was 898 start up companies between 2011 and 2015. One example of this that has done extremely well is the £10m Space Studios development in West Gorton, which has been used to film award winning 'The A Word' and ITV hit drama Cold Feet.
Nightlife:
For young professionals just arriving in the city, the Northern Quarter and Ancoats are the places for quirky, independent bars and restaurants. There is also Mayfield Depot where food fair GRUB opened earlier this Summer with a range of street vendors offering some of the best food around.
Reachable by tram, Didsbury and Altrincham Market, are both very popular destinations for students and professionals alike, boasting many independent cafes, restaurants and bars.
Universities:
The University of Manchester is the 22nd best institution in the country according to the Complete University Guide league table, and the Research Excellence Framework (REF) also rated the University of Manchester's research activity 'world-leading' or 'internationally excellent'. 25 Nobel prize winners have come from The University of Manchester.
Manchester Metropolitan is also massively popular and came 62nd in the latest league tables.
Transport:
It's fair to say that Manchester is a well-connected city. There's several train stations across Manchester (Deansgate, Oxford Road, Piccadilly and Victoria) which all run regular services across the region and beyond, and if you did think about living in London, then you can always visit the capital in just over a two hour journey. A free bus service is also available which is a great way to get from one side of the city to the next.