400 flats could be built on the edge of Manchester city centre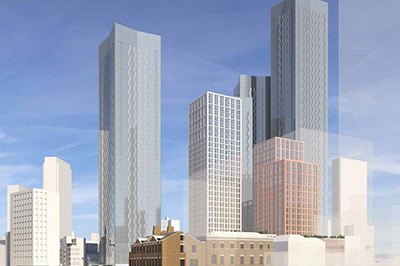 Designed by architects Ian Simpson (Beetham Tower architect) and Rachel Haugh, three tower blocks may be built on a patch of land between Great Jackson Street and Owen Street.
These three huge towers will contain almost 400 new high-end apartments, as well as a rooftop restaurant, on the edge of the city centre. The plans are the latest stage plans for a raft of new buildings around the River Medlock.
If the plans are approved then buildings at the site will be demolished to make way for the three towers. In these towers, 32, 26 and 18 storeys tall, there will be 132 two-bedroom flats, 240 two-bedroom homes and 14 three-bedroom units. Two of the towers are also planning to contain 13 three-bedroom townhouses as well as modern flats and 50 retirement 'suites'.
Developers have not yet said if any of the homes will be 'affordable', but town hall guidelines state that within developments larger than 15 units, 20 per cent of homes must be affordable - meaning rent or mortgage costs can not exceed 30pc of average monthly income.
If approved the towers will sit alongside four skyscrapers planned for Owen Street, the tallest of which will stand at 659 ft, or 64 storeys high, and will be the tallest in the country besides London.