Property Remains The Smart Investment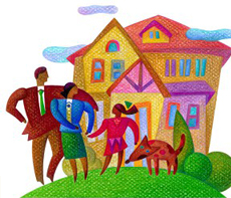 It is no surprise that many people are looking for the best way to invest their money. We all want to be confident about our future and with pension reforms in the UK seeing people having to work for more years before they receive the state pension, it is easy to see why many households want to have their own plans in place. There are many different investment opportunities to choose from, including new options, but for a lot of people, and experts, property remains the smart investment.
It would be fair to say that the emergence of the internet has transformed the investment market, like many other markets. Online trading and cryptocurrencies are offering new strands of investment opportunity all the time and it can be difficult to stay in touch with what is on offer. Some of the returns experienced by people who invested in cryptocurrency options like Bitcoin have been startling, leaving many people jealous, but doubts remain over the long-term suitability of these options.
Property is a good fit for many people
You can see why people hold an interest in property investment. There is tangibility to bricks and mortar, and this cannot be said for stocks, shares or even cryptocurrency investment plans. Also, while there will be many people who don't understand every part of the property buying or selling process, most people are familiar with the property market. Having a level of understanding in the market you invest in offers comfort for many investors, which means property investment offers peace of mind to many people.
There is also the fact that property prices continue to rise. While there are slightly downbeat predictions for UK house prices in 2018, in the long-term, prices are still likely to rise. There is also the fact that property prices rose in January of 2018, surprising many people and perhaps suggesting that property prices won't fare too badly in the year that lies ahead.
Property offers short and long-term benefits
While property investment is seen as a long-term strategy, there is a great deal to be said for the short-term benefits of property investment. There is a huge level of demand for rental property in the UK these days, which means acting as a landlord can offer immediate returns on an investment. Not everyone wants to devote the time, effort or energy to being a landlord but there is a strong level of support with property management services. With many rental fees rising faster than the rate of inflation, it is easy to see why people believe this is the investment option that meets their needs.
While obtaining a mortgage can be difficult, and it is a challenging process for many people, there is a greater variety of choice in the market today than there has been before. It is possible to shop around and obtain a highly competitive mortgage, helping you to improve on the return you obtain. There is also a feeling that the market favours professional and smart investors. As there are investment opportunities in the property market, many people have been drawn to it, but it is easy to make mistakes if you are ill-informed or not making consistent decisions. This provides an added incentive to invest in this market and to make decisions that are tailored towards a long-term strategy.
If you are keen to invest in property, it makes sense to speak with a property market specialist. At Peter Anthony, we are well-known in the local area and we have helped many people get on the property ladder or make a smart investment. For guidance and support, contact Peter Anthony today.