How do you choose your agent?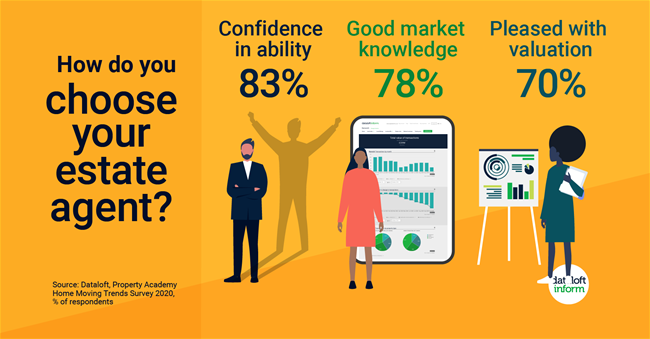 Capability and market knowledge top the list of how prospective home buyers choose their agent according to results of the 2020 Property Academy Home Moving Trends Survey analysed by Dataloft.
Confidence in ability was rated by more homemovers than any other single quality and far outweighed the 19% who included 'lowest fee' in their top 5.
'Liked and trusted' (69%) and 'handled similar properties' (59%) complete the top 5 which remain consistent across all different age groups.
Younger buyers, aged up to 34, were more likely however to include portals, fees and ratings in their top 5 choices. Source: Dataloft, Property Academy Home Moving Trends Survey 2020, % of respondents
Knowing your market and staying in touch are crucial, Dataloft Inform is here to help. This gif is also available as a single jpeg in the infographics library.