More stock is key to unlocking chains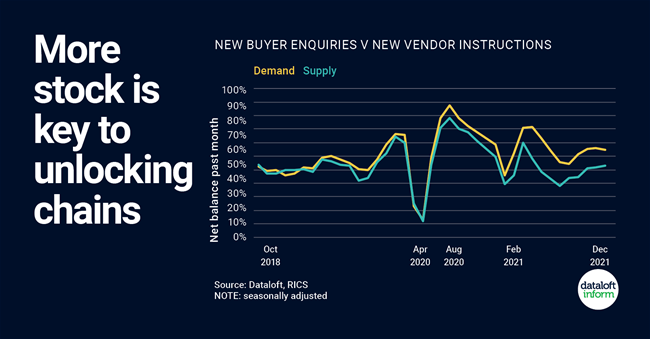 New buyer enquiries rose modestly in December (+9%) marking the fourth successive monthly rise in demand.
The end of the stamp duty break curtailed demand to some degree but since market reopened back in June 2020 demand has significantly outpaced the level of supply (new instructions).
Demand has been outpacing supply ever since the market reopened in June 2020 with only a slight deceleration when the stamp duty break came to an end.
New instructions recorded a net balance of -14% in Decemberresulting in a 9 month run of falls. It is this lack of stock that is putting a cap on sales activity.
House price growth is likely to continue due to the imbalance in supply and demand. More stock is needed to unlock the system and ensure chains can be completed. Source: Dataloft, RICS