New Cinema at Redrock opens!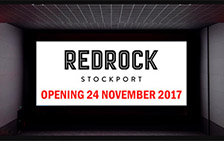 The Light Cinema, at Redrock, in Stockport Town centre, will be open for business tomorrow!
After two years of construction, along with the cinema there will also be restaurants such as Zizzi and Pizza Express opening soon.
This 10-screen cinema will replace the one currently at Grand Central, which closes on November 17 as the area is being redeveloped into a commercial quarter.
Among the films to be shown in the run up to Christmas will be Star Wars: Last Jedi, Paddington 2, Bad Moms Christmas and Murder on the Orient Express.
Kate Butler, executive member for the economy and regeneration, said: "It is a significant development and is going to bring a huge amount of new people into the town centre."
"It is what we have needed for some time. It is a really good reason to come into the town centre in the day but also, crucially, the early evening."
A grand opening event is planned for November 23 and Storm Troopers will be seen in the area, along with a competition to win tickets to an exclusive screening of the new Star Wars film.
"Redrock will be a fantastic addition to Stockport."