Liverpool House Prices up 24.1% in the last 5 Years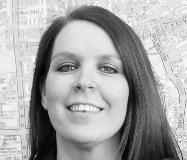 Gillian Bell Feb 26, 2019, 14:15 PM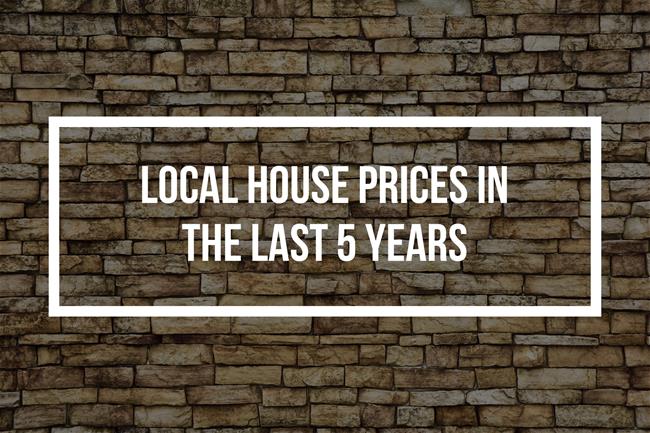 Over the last 5 years, we have seen some interesting subtle changes to the Liverpool property market as buying patterns of landlords have changed ever so slightly.
The background to this story was the recently published set of buy-to-let (BTL) lending statistics. Roll the clock back 12 months and 6,700 BTL mortgages were granted (in the same month) for £900m, meaning the average BTL mortgage was £134,200. Looking at last month's figures, and as one might expect with the Brexit issue overhanging the property market, the lending figures were down, yet not by the amount I originally thought. Last month, just over 6,100 new buy-to-let mortgages were granted for a total sum of £800m (meaning the average landlord mortgage was a respectable £131,100). Yet, when I looked back to the boom year of the 2014 property market, in the corresponding same month, only £1,030 million was borrowed on 8,300 buy-to-let properties (meaning the average buy-to-let mortgage was £124,100). It seems Brexit is having no effect on landlords buying habits.
Looking closer to home in Liverpool, throughout 2018, I have been regularly chatting to more and more landlords, be they seasoned professional Liverpool BTL landlords or FTL's (first time landlords) and their attitude is mostly positive. Instead of reading the scare-papers (oops sorry newspapers), those Liverpool landlords that look with their eyes, will see the Liverpool property market is doing reasonably well, with medium term rents and property values rising; as quite obviously from the mortgage figures .. landlords are still buying.
The question I get asked all the time is .. "What type of buy-to-let property should I buy? You can make money from property through both the rent (expressed as a yield when compared to the value of the property) and how the actual value of the home itself changes.
Since 2014, property values in Liverpool have risen by 24.1%.
We have records of what each type of property (i.e. Detached/Semi/Terraced/Apartments) has achieved per square metre going back 20 years … and looking back over the last 5 years, these are the numbers ..
| | | |
| --- | --- | --- |
| | 2014 Liverpool Average Value £/Sq.M | Current Liverpool Average Value £/Sq.M |
| Detached | £1,919 | £2,354 |
| Semi Detached | £1,571 | £1,972 |
| Terraced | £1,256 | £1,574 |
| Apartments | £1,819 | £2,206 |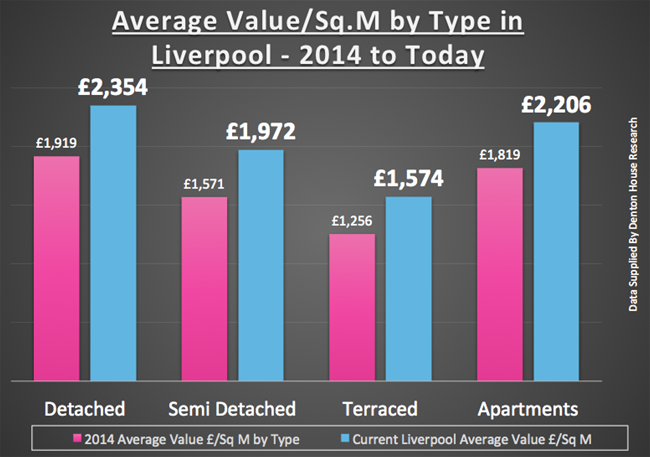 They all look to have similar percentage uplifts, however as you can see from the table there is in fact some variation throughout and although only slight this can equate to thousands of pounds in monetary terms.
Price Changes in Liverpool in Last 5 years by Type

Detached

22.6%

Semi Detached

25.5%

Terraced

25.4%

Apartments

21.3%

Overall Average

24.1%
This has proved that semis and terraced houses have performed the best .. although like the £/Sq.M figures, these are just averages. When investing, whilst Liverpool apartments haven't been the best performers in terms of capital growth, they do tend to generate a slightly better yield than houses, probably because several sharers can afford to pay more than a single family. But houses tend to appreciate in value more rapidly and may well be easier to sell, simply because there are fewer being built.
Now these are of course averages, but it gives you a good place to start from. The bigger picture here though is this - irrespective of what is happening in the world, be it Brexit/no Brexit, China, Trump, whatever, Liverpool people still need a roof over their heads and we as a Country haven't built enough homes to keep up with the demand since the late 1980's. This means even if we have a short term wobble in 2019 when it comes to property values ..in the medium term, demand will always outstrip supply and prices and rents will increase – because, I doubt the local authority, let alone Westminster, have the billions of pounds required to build the one hundred thousand Council houses per year nationally for the next decade to fix this issue – meaning as the population increases, the only people who can fulfil the demand for accommodation in the medium term is the private BTL landlord.
Before I go …on average, housing associations and local authorities have built around 26,500 houses each year since 2010. The Labour government had a lower average, building about 19,000 homes per year, yet in the 1960's, under both administrations, 180,000 councils were built per year!