Victoria Baths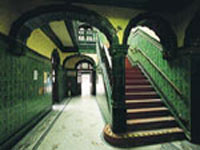 The Victoria Baths, near Longsight in Manchester, were designed as a prestigious baths complex by Manchester's first City Architect, Henry Price, and opened by Manchester Corporation in 1906. In their design and construction no expense was spared. The facade has multi-colored brickwork and teracotta decoration, the main interior public spaces are clad in glazed tiles from floor to ceiling and most of the many windows have decorative stained glass.
For 86 years the Victoria Baths provided both essential and leisure facilities. Private baths and a laundry were housed there along with three swimming pools and the Turkish Baths. The main swimming pool was floored over in the winter months to hold dances. In 1952 the Victoria Baths installed the first public Aeratone (jacuzzi) in the country.
The Victoria Baths was closed in 1993. The building is now in very poor repair and yet remarkably intact with most of the stained glass and original tiling remaining. the Victoria Baths is listed grade II* on the List of Buildings of Architectural and Historic Interest.