Book Review: The 3+1 Plan, Brett Alegre Wood
David Boyd, Managing Director, PAD4U Letting Agents Manchester writes: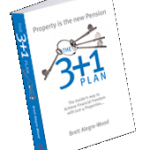 I tend to avoid the numerous make yourself a millionaire in property books like the plague, as they tend to be written by individuals who have taken huge risks but through sheer luck or market conditions succeeded. Yet The 3+1 Plan intrigued me for two reasons; firstly it's written in what is arguably one of the most difficult periods for property investment and secondly it passed my acid test. It's a simple test really, I skip to the section regarding Property Management and if it advocates a do-it-yourself approach without the assistance of reputable local letting agents I can safely bin it (as it's not going to be a serious approach to investment). However the 3+1 Plan does not and thus I took time out to read more.
It's a little eerie reading a book, due for release this autumn, which has nothing to say of the recent turmoil in the UK property market; mortgage tables that still include Northern Rock certainly raise an eyebrow as does the slant towards new-build developments. But look beyond these flaws and there are certainly some worthwhile approaches to the subject of property investment.
Firstly, the authors goal is not to make you a millionaire, but to provide an alternative pension plan based on 3+1 properties, certainly a more achievable goal. The current economic climate may turn off many to the benefits of property investment, but one look at pensions and stock markets should bring most intelligent investors back to an investment class which has proven to be the most successful investment for the long term.
Secondly, an entire chapter dedicated to cash flow is comforting to see. The authors two-year cash flow method is a useful tool for assessing whether you have enough meat on the bone to cover your investments. As the author correctly points out, property is never repossesed by banks because of negative equity but because of a lack of cash flow. The emphasis on cash flow and how to balance cash flow and equity is useful information.
Thirdly, the book's long term focus advocates PAD4U's view of property investment. Acknowledgement of market cycles, interest rates, inflation, other macro economic topics and perhaps more importantly our emotional impact will hopefully assist many property investors in being better prepared for movements in the market thus allowing them to take advantage of these cycles.
So, although The 3+1 Plan may not have all the answers (I doubt one book could) there are useful chapters that any property investor, expert or beginner would benefit from reading.
(The 3+1 Plan by Brett Alegre-Wood, published by YPC Global Ltd, will available in autumn. More information and a sample chapter can be found at the website http://www.3plus1plan.com/)