Can a 300 dollar house be built?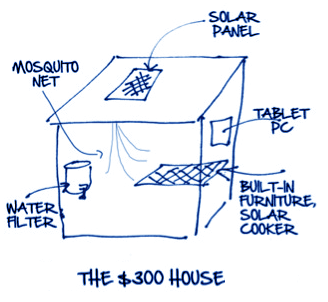 David Boyd, Managing Director, PAD4U Estate and Letting Agents Manchester writes:
I read with disbelief this weekend in the Economist (see article by Schumpeter) that a $300 house was being contemplated, surely this is an impossible feat? Perhaps, but such unlikely endevours have achieved success before. Take the $100 laptop scheme, The XO laptop as it is known, is now being used by school children in some of the poorest regions in the world.
Intrigued, I headed over to the official website 300house.com to sign up and discover whether the project can 'get off the ground'.
The project is very much in its infancy, it is currently in the 'concept' stage and the organisers are looking for ideas (if you have a flair for design - you can submit your concept with the opportunity of winning $25,000!).
The idea was originally presented in a Harvard Business Review blog post by Vijay Govindarajan and Christian Sarkar. Initially it was just an idea, but now they want to see how far they can take this project. A number of universities and businesses are now getting involved.
The more people who get involved in such a project the greater likelihood of success, so please spread the word!