Does your house have kerb appeal?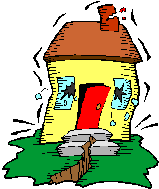 While there is a lot of focus on presenting your home when you are looking to sell it or let it out, it is important to not overlook one important area of your property. You can see why the inside of your home is the main focus point in presenting your home but with the outside of your home being the first thing potential buyers or tenants see, you need to make a positive first impression.
This means that your home has to have kerb appeal, which means it must be attractive and welcoming to people viewing your property from the pavement or kerbside. A good starting point is to stand outside of your property and approach it with a fresh pair of eyes, trying to view it in the manner someone seeing it for the first time would. If your home seems fresh, welcoming and positive, you have good kerb appeal but if not, you may find that potential buyers or tenants are turned off before they even step foot on your property.
Here are some top tips to give your home kerb appeal:
Be clean and tidy
The first piece of advice in presenting the outside and inside of your property is to make sure everything is clean and tidy. This is the first step so get scrubbing, remove items that add nothing to the property and try to create as much space as you possibly can.
Add some life
Your garden area should have some sign of life and vitality, regardless of how much space you have in your garden. Even limited garden areas can be brightened up by small pots or window boxes, making the place seem fresher and brighter. Make sure you remove all weeds from view and try to add a splash of colour with seasonal or colourful plants.
Brighten your front door
Your front door is hugely important in creating a positive first impression. Your door should be in good condition, it should be bright but it shouldn't be a garish or unusual colour. You want to strike a balance between eye-catching and unique so choose traditional colours but make these colours as rich and as notable as you can, so a fresh coat of pain is always a good idea.
If you have glass features, ensure they are gleaming and if you have brass features or accessories, polish them up.
Carry out repairs
You may think that anything at roof level is "out of sight, out of mind" at your property but you need to make sure that all guttering, fascias and drainage pipes are in good working order, clean, fixed securely to the property and ideally, all in the same colour and style.
Windows
Your windows can add tremendous value to your home. The functionality of your windows can help to reduce the amount of energy used to heat the house, lowering energy bills. The style of your window can be very attractive from afar, but the style must be in keeping with the rest of the home and the local area. Also consider the impact of blinds or curtains. Ideally, they should all be the same colour and look the same.
Lighting
If you are looking to differentiate your home from other properties, lighting in your garden area or exterior can have a huge impact. Garden lighting adds safety and security benefits, it can allow people to enjoy the garden for longer and if the lights are stylish, it can help improve the appearance of your garden, even when the lights are not in use.
Fencing and the perimeter of your property
Just because your gates or fence are a good distance from your actual house doesn't lessen their importance. Gates and fences offer security and safety, so make sure that they are in good condition. Also, if there are any gaps or breakages in your fence, have them repaired, because this may have a psychological impact on what the potential tenant or buyer thinks of you and your property.
Also, if you have hedges or bushes around your property, ensure that they are trimmed.
Paths and driveways
Paths and driveways must be cleaned (consider using or hiring a power-washer to thoroughly clean them), make sure that they are clear and make sure that all paths and driveways are in good condition. If you need to have aspects of your path or driveway repaired or replaced, consider doing so. This is also the case for any decking or patio area that you may have on your property
Consider the surrounding area and neighbours
It may be the case that your property is very welcoming but mess or rubbish on the street or untidy neighbour gardens may create a negative impression with any viewers. In this regard, you may consider cleaning your street and having a word with your neighbours. This can be a difficult topic to bring up but if you offer assistance in clearing the area, you may find that they are happy to accept your advice.