Rent on Time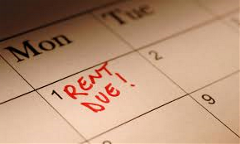 I was speaking to a landlord the other day who had called into our office for advice as he had let his property out through gumtree and now his tenant wasn't paying the rent.
This got me thinking about the state of arrears in the rental market so I thought I would look into it further.
Late payment of rent is one of the biggest risks faced by landlords on a daily basis, with 32% having suffered from arrears in the last 12 months whether it being a couple of days late or considerably longer, according to the latest research by the National Landlords Association (NLA). The average amount of arrears amounts to over £1600, so if you haven't allowed for this in your budget, this can leave a gaping hole in your finances.
This seemed like a large proportion of tenancies to be effected so I gave a specific rent guarantee insurance company a call to see what they run at. They advised me that the percentage of policies they issue that were claimed against was 2%. However, the rental arrears needed to be in excess of 30 day to be able to start the claim.
There is clear correlation between the quality of the checks carried out on a tenant to the risk of rental arrears that arise.
I know from running the letting department for Peter Anthony in Levenshulme and Davenport that we carry out very stringent checks prior to approving any tenancy and our rate of tenancy arrears are very low. That doesn't mean that a tenant's circumstances won't change and they may go into arrears.
For that reason, we have designed a bespoke service for our landlords which they automatically get free of charge for the first six months of any tenancy which is called "Rent on Time". This means regardless of whether the tenant pays or not, we will pay the rent on the agreed date without fail whilst the tenant is occupying the property. If required, we will evict the tenant and cover court costs as well as instruct a solicitor so that you do not have to attend court and the matter is dealt with quickly and professionally. Should the tenant not stay for their agreed 6-month tenancy, we will find a new tenant free of charge at our cost.
Hopefully, you can see that this scheme has come from a Landlords perspective. We wanted to align the interests of the Agent and the Landlord, so that the Agent suffers financially if it doesn't find the best tenants for your property.
If you any issues with a tenant and want some advice or you have a property and you are thinking of letting it out, then feel free to give to us a call on 0161 257 2441 or call into our Levenshulme or Davenport branch.