5 Questions to ask when viewing property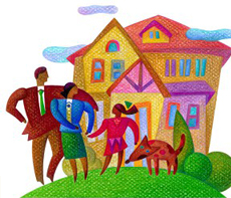 When viewing property, there is a lot to take in and what a potential buyer sees will go a long way to making up their mind about the property. However, there are many important matters which cannot be seen just by looking at a property, and this is why it is important to ask questions when viewing a property.
If you are viewing a property with an intention to buy, here are 5 questions to ask when viewing property.
Has there been major work undertaken at the property?
While a full structural survey provides detailed information about a property, it makes sense to ask if work has been undertaken on the property in recent times. It is also of benefit to ask for evidence of the work that has been carried out, like invoices from the building firm and any guarantees that may have been issued surrounding the work.
Is the property in a conservation or listed area?
While this information will be included in the conveyancing process, there is no need to wait until that has been undertaken to find out important information about a property. A home in these areas can present limitations when it comes to making changes, which may be a big factor for homeowners, so it is best to learn this information as quickly as possible.
Do the sellers have a property to move into?
When it comes to buying a home, there are a number of factors that can impact on the speed of the deal or whether the deal concludes or not. One factor that is worth considering if the selling party has found their next home or not. If they haven't, it may delay the buying process and could even see a deal falling through. If a dealer has their next home lined up and that has been confirmed, you can be more confident about the loan process.
What is included in the sale?
This may sound like an obvious question but it is important to know what you get are getting for your money. If there is a garden shed or external unit in the garden area, is this going to be included in the sale. Does the sale include all of the fixtures and fittings or will the current owner take them with them. The potential buyer should also obtain information about boundary lines.
What is the area like?
While it is possible to undertake a review of a local area online, uncovering relevant statistics, there is a lot to be said for finding out local information. This is why a potential buyer should ask the selling party for their opinion of the area and try to gather as much insight into the area as possible.
It is important to obtain as much information as possible before making a decision on whether to buy a home or not. Asking these five questions will provide a potential buyer with greater knowledge of the home and whether they should pursue their interest.