The money moves to Manchester as London investment decreases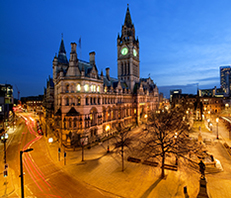 New data from UK Finance shows that landlord investment in London has dropped by 50% since last year, meaning Manchester is rapidly becoming the most attractive place for the UK's buy-to-let landlord.
The tax changes of higher stamp duty for buyers of second homes is why investment in London has fallen by more than half since April 2016. In fact, buy-to-let landlords in London only had 1,100 mortgaged purchases in the first quarter of this year compared to an average of 2,500 in previous years.
Brexit uncertainty has damaged the capital's property market, along with mortgage constraints and inflated house prices. Lower returns are expected for buy-to-let investors as the rent is predicted to fall by between 1-2%, according to analysts Hometrack.
The good news is that the tax hikes affected Manchester much less significantly than London. In the first three months of 2017 there were 840 mortgaged buy-to-let purchases, compared to about 1,000 in 2014 and 2015.
Manchester is also enjoying a residential building boom as well as the market being boosted by the BBC's huge MediaCityUk development and the growing student population, making it a more attractive investment for landlords compared to London because of the higher average yields it offers.