First-time buyer mortgages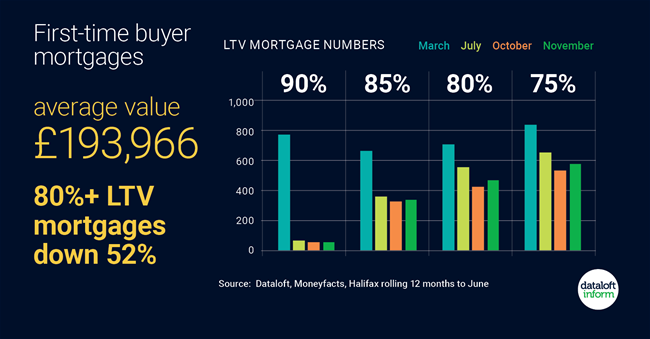 The average mortgage for a first-time buyer across the UK is just shy of £194,000, as FTB numbers fell 29% in the first half of 2020 versus 2019.
The average deposit for a FTB is now £47,059, purchasers requiring a mortgage at 80% LTV. There are 52% fewer 80%+ LTV products available on the market now than in March, 12% fewer than in July.
FTBs accounted for over half of all house purchase loans in 2019, but these purchasers have been more significantly affected by the impact of COVID-19.
FTBs will be helped in future by continuation of the government's Help-to-Buy scheme until March 2023 and the introduction of government backed 95% LTV mortgages. Source: Dataloft, Moneyfacts, Halifax