Manchester Gorton Market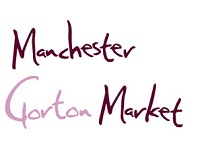 In 2006, Manchester City Council started a multi-million-pound redevelopment of the Gorton District Shopping Centre. The small market and retail area was demolished and work started in late 2007 to construct a brand new market hall and a new Tesco Supermarket on this site. Further retail outlets are to be developed near this site along Hyde Road.
Gorton's new market hall opened it's doors for the first time in June 2008. Part of the new Gorton District Centre, Gorton Market is now housed in a brand new, purpose-built, enclosed building on the site of the old Coop Pioneer supermarket on Garratt Way. The new market hall is over 4,800 square feet and boasts over 40 traders providing a wide variety of quality goods and great value for money.